MuntaeCara - The Project
Private initiative through the restoration of old buildings has permitted that this jewel, set in the inland hills of Liguria has taken on a new lease of life and renewed splendour.
Before...
The entire Village, with its small squares, narrow streets and stone walls is ready to give you a warm welcome. A place of refined fascination, recuperated thanks to the passion, care and hard work of the Pilone family who gave life to the "Scattered Hotel".

The "Scattered Hotel" Muntaecara ("Up and down" in Ligurian dialect) in Apricale offers a new and exclusive form of hospitality. The splendid suites and rooms have been obtained restoring the ancient houses in the old Village centre.
You will be given a warm welcome in ancient towers, old cellars and noble residences scattered all over the suggestive Village centre (a pdestrian area), up and down narrow lanes enclosed between medieval stone walls.
Your stay will be transformed into an unforgettable experience in a place of great historical value with a magic atmosphere.
...and after!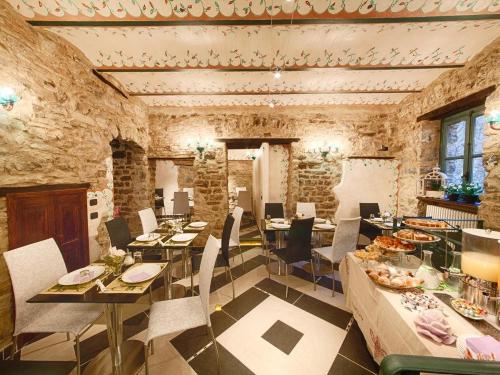 All the buildings have been recuperated and restored respecting their history and legends, preserving and valorizing the uniqueness of the decor of past ages. Rooms and suites have been obtained inside ancient towers and stone-faced houses in the centre of Apricale maintaining stone walls, wood beamed or arched ceilings.
The attention to detail in the refined furnishing and the restoration of the original frescoes in the room have reinstated their historical value at the same time providing them with comfortable modern equipment for guests.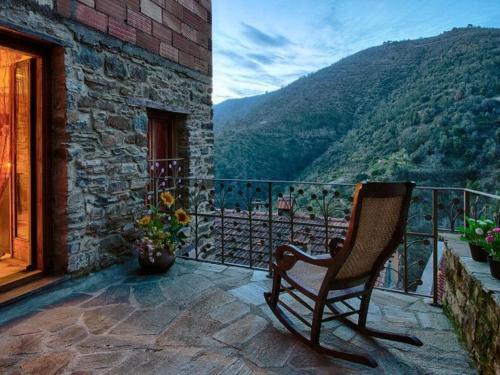 Emanuela, who spent her childhood in Apricale, Silvano her husband and their daughter Valentina opened the doors of this unique Hotel in april 2010 offering a warm welcome to guests. The project is the result of years of hard work stimulated by a pure and simple love of the area. The Pilone family, who run a commercial law office in Turin, decided to divide their time between account books and this marvellous adventure. The idea, born by chance during a conversation with the Mayor of Apricale, turned into a passion, a desire to conserve this treasure, reinstate its value, witness to the past and a cultural inheritance for all. Muntaecara is in continuous development; there are still many fantastic corners of the Village to discover which Valentina and her family are ready to take care of.