The Mirror Suite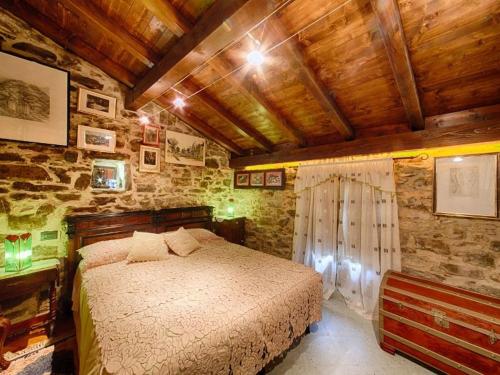 Adress: via Angeli n.8
Story:
This marvellous suite will embrace you with its soft flower decorations for your nights in Apricale.
It will welcome you in a comfortable enchantment of mirrors, each one of which, in its own way, will reflect your wishes transforming into windows looking out onto everything you love in endless repetition.The free lines of the liberty style decorations will put you at easy in this pleasant environment full of light.
The Swallows' Suite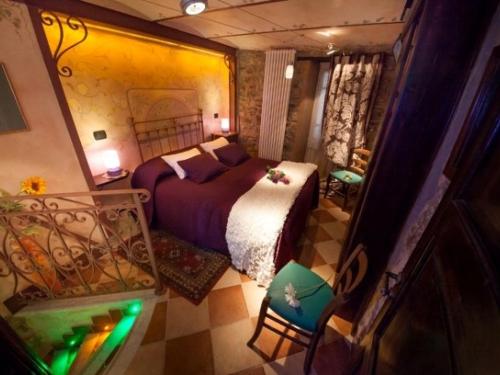 Adress: Via Castello n. 18
Story:
Swallows used to perch on the wire stretching in front of the Castle doors. With their tails touching each other they would sing in chorus to welcome the arrival of spring. Swallows in love choose their partner for life and from the splendid position in front of this room they could admire the immense beauty of life. You, too, may take delight in this wonderful view and take advantage of the swallows's good omen if you choose to spend your holiday in this room with its magnificent frescoes and breathtaking view.
The Grapestalk Suite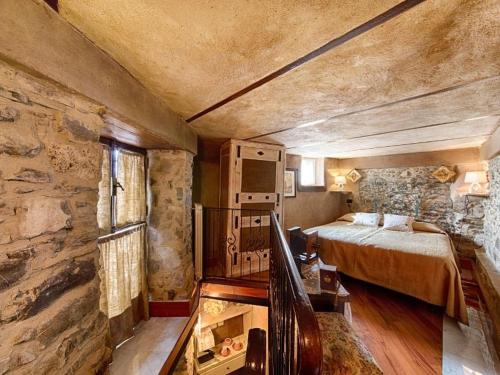 Adress: Via Castello n. 36
Story:
The warm fabric covering the cupboard was hers, Tanta's Marì's. This room was her pantry. The twines ran from one end to the other, hanging from the ceiling, heavy with bunches of grapes. If you close your eyes your imagination can still catch the rich and intense scent of past abundance. If you want to sleep in an atmospehere full of prosperity and charm, this room is ideal - be Tanta Marì's guest.
Suite dello Stoppino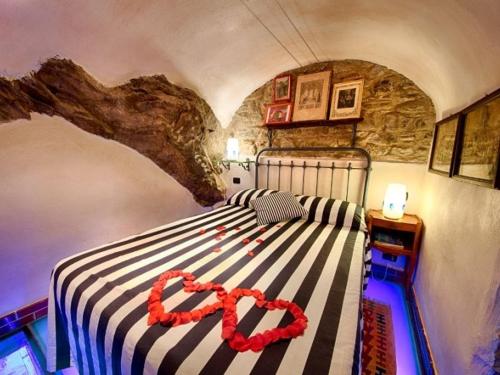 Adress: Vicolo ristretto 1
Story:
Lo stoppino è il filo intrecciato che serviva a tenere viva la fiamma delle lampade a olio che hanno illuminato e donato tepore a questa camera;sembra ancora conservarne la magia e il calore. Potrai vederli ancora poggiati, come allora, sulle mensole in pietra che adornano le pareti. Era una fortezza difensiva, e la luce tenue che si diffondeva qui, si faceva appena strada attraverso la feritoia che dà sull'esterno. Queste mura, hanno l'esperienza accogliente che serve per rendere ricco e favoloso il tuo soggiorno nel Borgo.
The Singing Suite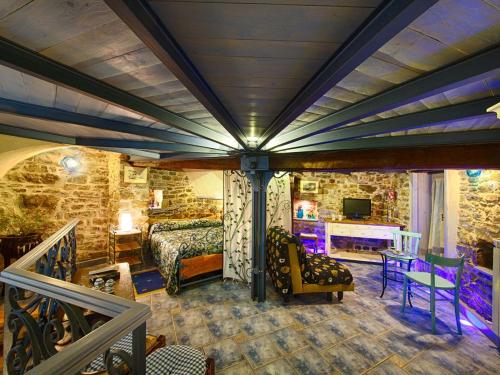 Adress: Via Garibaldi n. 1/b
Story:
This is where you sing. The crystal - clear sound of the water in the nearby fountain formed the background to maiden's chatter when they came to draw water. The boys who approached them usually sang love songs and this atmosphere of carefree youth is present here today, as it was yesterday. Water is life and its song tells a story of joy. The house near this fountain enjoys an ascendant of contagious happiness which is passed on to its guests.
The Leafy Portico Suite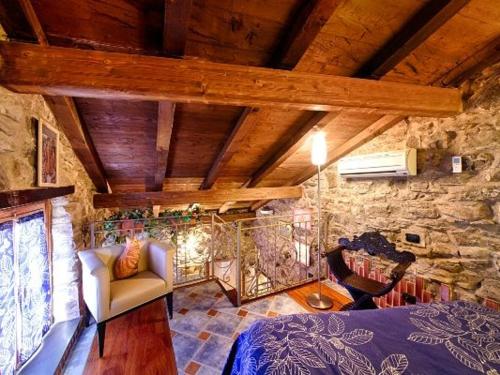 Adress: Vicolo Martiri
Story:
Entering this room is like unwrapping a wonderful present. The sense of excitement is the same!You can feel it, the seed was sewn in the past, it grew here together with the tree that lived here. The leaves that soften the floor of the portico are remembrance of past ages. The balcony makes us dream of great love stories. This room is an ideal place for you to plunge into an unreal dimension of fantasy.
The Owls Suite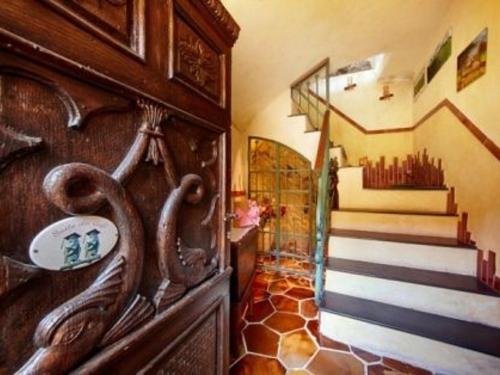 Adress: Via Angeli n. 27
Story:
The first inhabitant of this magnificent tower was me - an owl - "U ganavel" as I was called in the Village. I had been injured and this empty dwelling was my shelter all through the winter. By the time spring, came round again I was able to fly away, but I am grateful creature so I frequently return here, to the house that had been my refuge. I am a messenger of magic, a guide. Whoever sleeps in the tower may catch a glance of me passing by from time to time dropping pearls of wisdom - advice from a wise owl.
The Sticks Suite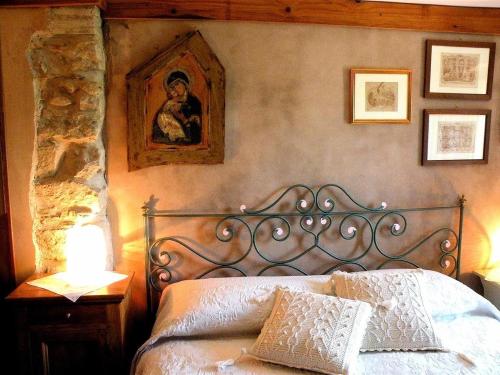 Adress: Via Angeli n. 1
Story:
The "Scarasse", the sticks in the large vase in this room were used to help the peasants keep the rows of vines in order. They are simply roughly cut branches whcih have a lot to tell.
They are magic wands left in this room at the end of a long career as the companions of people and places, of years of wine produced from vineyards that flourished thanks to their guide. The warmth of this splendid romm will take you back to a precious memory of the past.
The Tools and Flowers Suite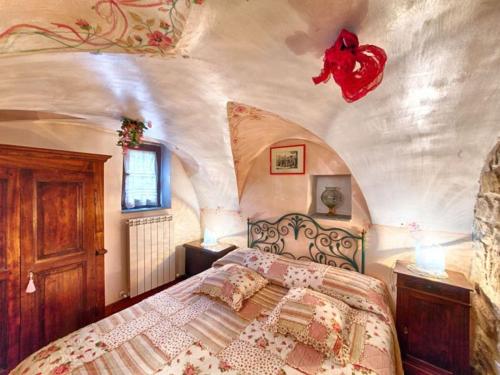 Adress: Via Angeli n. 50/b
Story:
The antique work tools kept in the show-case in this room are the guardians of secrets.They tell the story of an old world consisting in natural things in a simple age of spiritual wealth and these objects are indelible witnesses representing the true language of life; they are symbols of this superb land, of a magic atmosphere where you can experience an intense journey among past memories.
The Ladybird Suite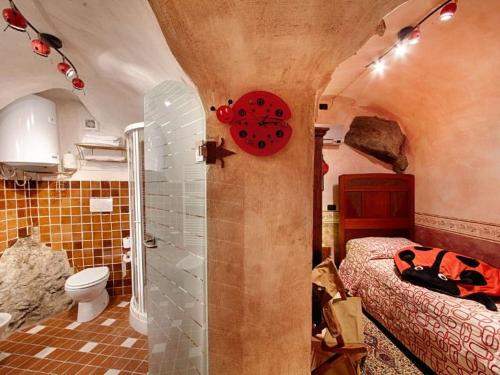 Adress: Via Garibaldi n. 5
Story:
No-one is like us, we're bright red and beautiful and we bring you good luck!
During winter we seek refuge under dry leaves or in cracks in tree trunks. When nobody lived here, this was our home, we sheltered from the cold in this room, keeping close to each other to form a red carpet which could fulfil every wish.
We have left some of our magic and good fortune as gift to this place that offered us hospitality. Those who sleep here may find their wishes are nearer to coming true.