The Village
The medieval Village of Apricale is a jewel set in the hills of the Ligurian hinterland. Only a few kilometres from the coast. From this privileged position Apricale enjoys a splendid breath-taking view.
A unique scenography which buries its stone roots in an ancient age, full of suggestions and histroy. From Roman times to medieval ages the ancient Village centre seems to be unchanged. The houses snuggle together facing narrow streets which lead to the Castle of the Lucertola ambedded in a high rocky spur - The Peak - symbol of the Village.
Apricale was the first Village in Liguria to be given the title of "The most beautiful Village of Italy" and is also one of the Villages awarded with the "Bandiera Arancione", included in the "Strada dell'olio" and named "Perla della Liguria".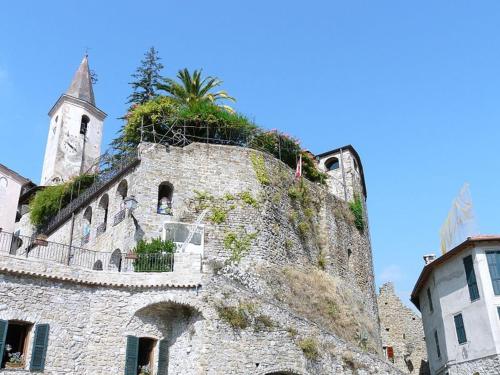 The area of Apricale offers numerous opportunities for tourism and pleasure spots. The Village is about 10 minutes distant from the beaches well - knows resorts of the Ligurian coast and about 30 minutes distant from the French border with the Cote d'Azur, Monte Carlo and Nice.
Set in the Maritime Alps, Apricale is an excellent point of departure for excursion and walks. We have agreement with the restaurants in the Village where you can taste the typical cuisine of the Ligurian hinterland.